Top 10 Dishes to Eat in Turkish Restaurant
There are many types of Turkish cuisine available worldwide. Its multicultural makeup has a positive effect on Istanbul's food scene. If you are in Turkey then forget about the fast food and experience the real Turkish food.
Where do you begin when there are so many dishes available? That's why we've put together a quick list of dishes to eat in Turkish restaurant.
The day starts with the breakfast in all around the world. So, let's starts with the Turkish breakfast.
Turkish Breakfast
Turks have a slightly different breakfast routine than Europeans do. In the first place, tea replaces coffee. For an authentic Turkish breakfast, you will need tomatoes and cucumbers as well. The remaining elements are similar.
Mostly white bread is used. However, many grain breads such as rye are available nowadays to eat for healthy diet.
White cheese (similar to feta), old cheese (Kasar Peyniri), black and green olives (Zeytin), butter (Kaynak), honey, jam, an omelet or boiled eggs (Yumurta) are used regularly.
Succuklu yumurta and börek are the surprise ingredients. Guests are usually spoilt by these two dishes. Cumin, red pepper, raisins and sumac are some of the spices that are used in sucuk, a dried sausage made of ground beef.
It becomes a fatty yet delicious extravaganza when cooked in a pan mostly with eggs. Borek, a traditional Turkish dish, comes from thin sheets of dough that can be filled with cheese, minced meat, and vegetables, wrapped and baked.
Menemen
Menemen is an omelet in the Turkish style. To a freshly boiled stew of tomatoes with onions, peppers, herbs, parsley, pepper, and ground red pepper, the onions and peppers are first roasted and then combined with eggs, herbs, and pepper.
With an addictive taste, this dish is simple, cheap, and easy to make. Turkey orders this mostly for breakfast.
Aegean Region city of Izmir bears the same name as the Menemen district of this dish. During the early 1920s, tomatoes were first grown in Izmir as a main ingredient. Based on this, we can determine when the famous dish was created.
Because it is a very common dish, it doesn't surprise me if there are various derivatives and extra ingredients such as cheese, ground meat, mushrooms, sucuk, sausages, chicken or eggplants.
Meze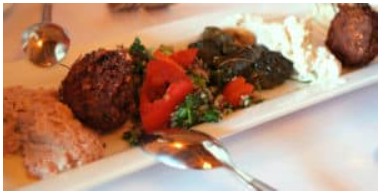 In contrast to a full course, Meze refers to cold starters. In Turkey, restaurants specializing in mezes are known as meyhanes. Traditional meyhane restaurants serve alcohol with traditional foods and mezes. Turkish restaurants usually serve mezes as appetizers.
There are most often big plates of mezes for you to choose from when the waiter comes to your table. Each person will pick one or more from the list. A meze is then placed in the middle of the table and shared by all.
Various dishes taste great with toasted bread. The most popular mezes are:
Chili Tomato Paste (Ezme)

Grilled Eggplants with Yogurt (Patlican Ezmesi)

Grilled Eggplant Salad (Patlican Salatasi)

Fried Eggplant with Tomato Sauce (Saksuka)

Mint Yogurt Dip (Haydari)

Pinto Beans (Barbunya)

Artichoke (Zeytinyagli Enginar)
Kuyu Kebab
A specialty of Kastamonu in Turkey's Black Sea Region, Kuyu Kebab is a dish from the city of Kastamonu. The dish's name comes from the cooking style, where kuyu means 'well'.
The whole lamb is slowly cooked (without the inner organs) over a charcoal fire while hanging in a well. Kuyu kebab is made with pine tree branches to enhance its flavor.
Iskender Kebab
The Iskender Kebab is actually Döner meat. It consists of pieces of meat torched on a spit, skewered and grilled vertically. It is seasoned and seasoned with suet, local herbs and spices. A platter of doner leaves is served on top of hayes, a pita-like bread. Butter and tomato sauce are applied to pide pieces.
To make it even more delicious, we add yogurt and more tomato sauce and butter on the side. This heavenly meat dish comes from Bursa.
Adana kebab
If you are a meat lover, make sure to try this kebab. In Turkey, Adana is the name of a city located in the southeast. In 2009, Adana Kebap was given a "Controlled Designation of Origin". Only Adana chambers of commerce-approved establishments can make original Adana kebabs.
Despite the simplicity of the ingredients, the cooking process is complicated. Lamb meat and fat from the tail are essential ingredients. Traditionally, the meat has to come from an under one-year-old male lamb. Animals need to be raised in their natural environment and fed with locally grown food.
With the meat kneaded with dried red and green hot peppers and fresh red peppers, brochettes are mounted on skewers, grilled over coals, and served with lavas (flatbread) with roasted onions, tomatoes and green peppers.
Lüfer
Every local will tell you that fish is on their top 5 list of things to eat in the city. It is like a ritual to combine raki and fish on the Bosphorus at the weekend. As an alternative to raki (the anise-flavored beverage), you are free to choose whatever drink you like.
However, how do you decide which fish to order? Depending on your taste, lüfer might be an excellent choice. Lüfer belongs to the Pomatomidae family. It is a fairly large, delicious, and easy to clean. If it is available, the younger variety is more luscious, called sarikanat.
Manti
Manti, also known as Turkish ravioli, is served with yogurt and garlic in a hot dish. Manti is a type of dumpling that is made up of dough and a filling. Traditionally, Anatolian (Kayseri) dough is made of flour, water, and salt.
To increase the flavor of the dish, some add eggs. Cooks are more masterful if their dough is thinner and the wrapped pieces are smaller. Beef or lamb is mixed with onion, salt, and pepper.
There are several different ways to order manti these days, such as with salmon, spinach, or even chicken. The manti is served with yogurt, garlic, and tomatoes cooked with butter, no matter how it is cooked: in water, in butter, or in tomato sauce. Spices are very commonly added to dishes.
Künefe
In Arabic, Künefe means cheese pastry. The essence of the dish lies in the unsalted cheese between the two layers of kadayif. A kadayif is a thin dough fiber made from flour and water. Freshly baked, it is soaked in syrup and served warm.
This Turkish dessert has a golden color with pistachio ground on top. As you bite into the cheese, you will feel different textures, such as soft cheese and crusty dough. The cheese also helps to balance the heavy sugary flavor.
Baklava
Turkish desserts are best exemplified by baklava. It is a simple recipe (phyllo dough, nuts, and syrup), but there is certainly a lot of skill involved. Thin dough layers are essential. There are various varieties of nuts, such as walnuts, hazelnuts, and pistachios, available in different regions of Turkey.
Phyllo dough is covered with nut mixture between layers. In addition, the dough is dressed with butter, baked, and then soaked with syrup. When it comes to eating baklava, you need a good place since it needs to be prepared fresh and masterfully.
Bonus – Kuru Fasulye
What makes haricot beans so special? Certainly, it doesn't sound festive. But here it is. When cooked expertly with butter, tomatoes, and tomato paste, a simple ingredient can have such a velvety texture. Adding dried thin slices of beef or spices to it is what is called pastirma, and it can be cooked with or without meat.
It makes me feel like I belong to this culture and tradition to eat Kuru Fasulye with pilav (plain rice) and pickles. For this experience, restaurants across from Süleymaniye Mosque are the best place to go.