Delicious Starters of Turkish Restaurant
"Corba" (soup) is an essential component of Turkish cuisine, especially during the winter months when it is freezing. Even though Turkish soups are usually served just before a meal, they can be enjoyed at any time. In addition to using very healthy ingredients, many other variations are available like mercimek (lentil) soup, yayla soup (a Turkish yogurt soup), şehriye soup, and many more.
This list below includes the ten most popular Turkish soups, all of which hold a special place in Turkish culture & cuisine!
Mercimek Soup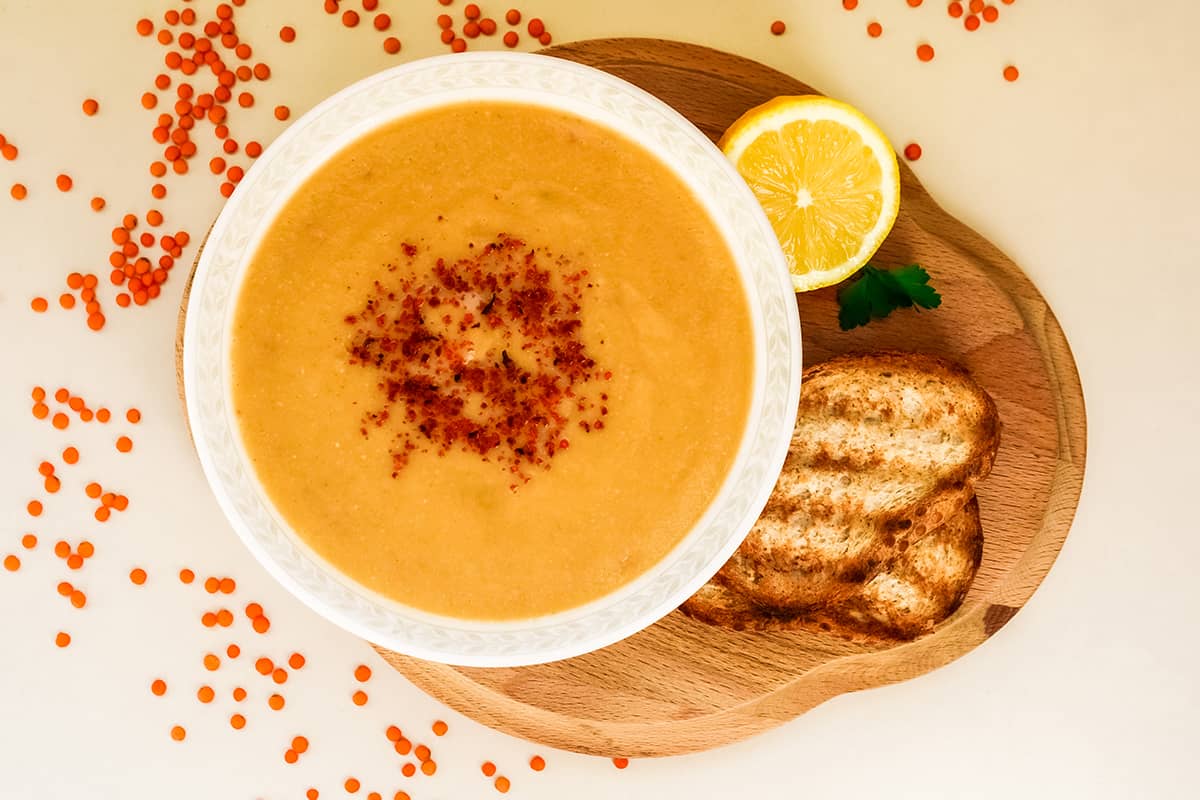 One of Turkey's most popular traditional soups is mercimek, known as Turkish lentil soup. There are only a few ingredients needed to make this dish, but the taste is impeccable! Among the many benefits of lentils is their fiber content, their high vitamin B content, and their high potassium content.
In addition to providing a good source of protein, Mercimek soup is gluten-free and is a great option for vegetarians and vegans alike. The soup will taste wonderful and fresh if you add a squeeze of lemon. After a long day, Mercimek soup makes for a delicious appetizer or light supper.
Tavuk Suyu Corbasi
Traditional Turkish Tavuk Suyu corbasi fare influenced by Ottoman cuisine. It helps strengthen your immune system and helps fight a cold. Get a bowl of soup and you'll be up and about in no time.
Additionally, collagen is also found within, which is excellent for your hair and skin. Moreover, the amino acid glycine, which is a component of this soup, provides you with better sleep thanks to its benefits. It is both nutritious and delicious, so this classic Turkish soup doesn't let you down.
Ezogelin Soup
Ezogelin's name derives from a bride named "Ezo" who impressed her in-laws. It is a healthy and special soup of southeastern region of Turkey.
A traditional soup made with red lentils, rice, bulgur, tomatoes and pepper paste, and an assortment of spices, this dish is a great example of how spices are used in Turkish cuisine to add flavor to dishes.
There's nothing quite like it in Turkey, and it's a delicious dish you'll want to make whenever you can.
Tarhana Soup
Tarhana soup is a great remedy for colds and the flu in the winter months. You can build up your immune system by eating this soup that is highly nutritious. This fermented mixture of yogurt, flour, and grated vegetables is used as the base of the soup's preparation.
Historically, it could be considered the first instant soup mix in the world. The tarhana soup in Turkey is sure to delight you - don't miss it while you're there.
Iskembe Soup
Among the unique tastes on this list, I think Iskembe soup is the most distinctive. In much the same way as paça soup, a relative of işkembe, it is made with offals. Most people in Turkey are crazy about it, no matter what some think at first glance.
Adding garlic, hot chili flakes or carrots to işkembe soup makes it even more delicious. With bread, bread and more bread, it's the classic hangover cure.
Beyran Soup
Your contemporary table, inspired by the Ottoman palace, Among Turkey's southeastern tastes, beyran soup is served from ottoman palaces to contemporary tables. There are too many health benefits for you to list here.
People suffering from respiratory problems can benefit from it. There are many vitamins and proteins in Beyran soup. Why not take a day off from your routine? Take a break to enjoy a Turkish breakfast in a Turkish restaurant, and experience the taste and flavor of the soup.
Balik Soup
The Ottoman-style fish soup is one of the best things you can taste if you are inclined to believe in the phrase "love at first spoon."
This product has high-quality proteins and fatty acids, and it is very healthy. To make this dish even better, add some lemon juice and croutons.
Yayla Soup
In Turkish cuisine, yayla is a yogurt soup made from ingredients such as rice, flour, and yogurt. Anatolian cuisine is incomplete without this taste.
Yumminess and nutritional value distinguish Yayla soup. This creamy dish is served with a sauce that is sinfully delicious!
Yuksuk Soup
Yuksuk soup originated in Adana, Turkey, and is a warm, refreshing, healthy and delicious dish especially enjoyed during the cold months.
Chickpeas and mantis are the ingredients that give the soup its name. Yogurt or tomato paste can be added if you like. I find it truly remarkable.
Şehriye Soup
Among the classic soups of Turkish culture, it is the most practical and most appreciated. Şehriye soup is very delicate and very popular in Turkish cuisine. This soup is substantial as it is known as orzo, or şehriye in Turkey.
The soup can also be served as a main course with fresh, crusty bread. Seasonal and personal preferences can drastically change the ingredients in the dish.